The focus of my research here in St. Petersburg is the city's new Marine Façade, an urban development project taking place on the westernmost edge of Vasilievsky Island. As with any substantial development project, especially one being built in such an historic area, the Marine Façade has caused quite a bit of controversy. The Façade project consists of three major parts: a new passenger port for cruise liners, a modern business/residential district, and a new highway, the Western High Speed Diameter. The entire area is to be built on a layer of "precoating," 450 hectares of land that are being reclaimed from the Neva Bay.
Like the Gazprom tower, many residents feel that the Marine Façade is outrageously inappropriate for Petersburg and for Vasilievsky Island, which is a UNESCO World Heritage site. People are afraid it will ruin the skyline of the city, damage the Bay, and decrease the value of their housing. However, the project naturally has many good qualities as well. The additions to the transportation system should clear up congestion on the island, which is now only connected to the mainland by the city's well-known bridges and the metro. Nearly everyone I've met agrees that the Passenger Port (which has been operational since 2008) is absolutely necessary for the city, as it is a major tourist destination on Baltic cruises and yet had no commercial port.
The most incredible part about this project has been our success with finding interviewees. It originally seemed like Alex and my projects would be hard to put together because of the controversial subjects and the difficulty of gaining access to public officials and big-shot businessmen. However, thanks to our fixer Masha (who obviously has talent in the realm of public relations), we've been able to secure interviews with some amazing people: the main architect for the city of Petersburg, the PR chairs of Gazprom and the Marine Façade Management Company, politicians and journalists and grassroots activitsts and even an architect whose firm does a lot of the city's historical restoration. Every interview has been extremely pleasant and every single person was happy to meet with us; considering the nature of the issues, I'm sure all of them considered it a good PR move.
Insofar as our reception went, the most interesting interview was with the main architect of the city, Yurii Mitiurev. Since he had to toe the official government line, this interview was the most likely to flare up in my face if I asked questions he didn't like or couldn't answer. In fact, he would not (and/or was not allowed to) answer any questions at all about the Gazprom tower, so Alex couldn't conduct an interview with him at all. Ashby and Megan also used him as a contact, and their projects are of a slightly safer nature, as far as public debate goes. I therefore asked if I could go last, just to make sure we did not ruin Yurii Konstantinovich's mood and get kicked out or something horrible before we all had a chance to interview him. My first question essentially asked what the basic architectural regulations are for the city and how they are determined. He answered with "this is a provocative question;" it seemed perfectly benign to me! However, during the rest of the interview I tried to be extra attentive and receptive to the positions he was espousing (even if, to be honest, some of his euphemisms and allusions I completely didn't understand) and by the end of our time there he seemed happy with the way the interviews had turned out.
So, even though this week especially has been a whirlwind of interviews and excursions, it's definitely been worth it to film this project. It may even be the first time I've been excited to write a research paper—probably because this is the first time I've been doing the real research myself and not just collecting from a bunch of musty books. I won't lie though; it will be nice to spend time in Moscow and review everything I have, knowing that the bulk of the information-gathering is behind me. But until then, I still have a few last B-rolls to shoot—so  for now, пока!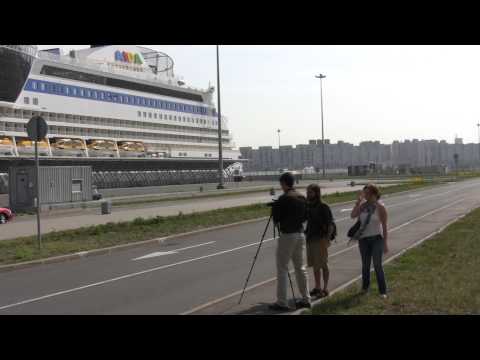 КРАТКОЕ СОДЕРЖАНИЕ МОЕГО ПРОЕКТА ПО-РУССКИ
Я хочу рассказать в своем сюжете о том, что Морской Фасад – это современное архитектурное продолжение традиций Санкт-Петербурга, и о том, что он является главными западными воротами России. Но так же я считаю, что необходимо затронуть немаловажную тему дискуссий и споров, всегда существовавших в обществе: сохранение и подчеркивание исторического духа Санкт-Петербурга против стремления к модернизации города (Софи Косар).